CBD for cats and dogs
More and more favorable stories are published about the beneficial effects of CBD oil. The popularity of CBD oil has risen sharply in recent years. CBD can not only relieve people, but dogs and cats can also benefit from the use of CBD oil.
What is CBD oil?
CBD stands for cannabidiol. This substance is found in hemp plants or in cannabis. CBD does not affect brain function and does not get you high. The substance that makes you stoned is THC and it does not occur in the CBD oil that you can buy from us. CBD also has no addictive effect. CBD oil is a legal product available without a prescription.
When you are looking for CBD oil, you will regularly come across the terms "Full Spectrum CBD" and "Isolate CBD". Full Spectrum CBD contains a full profile of cannabinoids present in the cannabis plant. You can think of CBG, CBDA, CBC, CBGA, etc. Isolate CBD is the purest form of CBD. Isolate CBD is extracted from the industrial hemp plant, in which the THC content is very low.
What does CBD oil do for your dog or cat?
In certain situations, the production of cannabinoids in your pet may fall short and the addition of CBD oil to the food can be a good addition. Think of acute or chronic stress / anxiety. CBD oil has a rest-supporting effect without acting on the brain. The CBD oil can be administered directly, put through the food, or apply it directly to the skin. Is your dog or cat eating badly? CBD oil is also an appetite stimulant.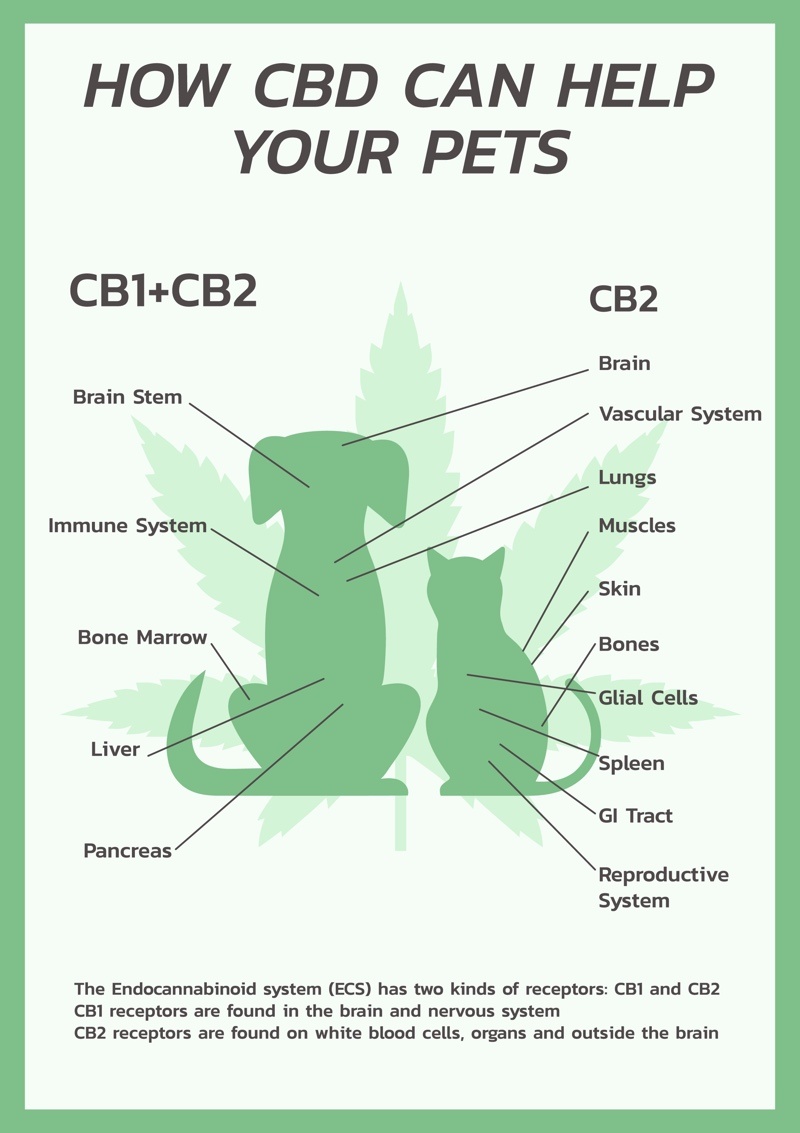 CBD can be used for many ailments in dogs and cats such as;
Anxiety and depression
Inflammations
Pain
Diabetes
Epilepsy
Tumors
CBD dosage for dogs and cats
The correct dose of CBD oil is different for every dog ​​or cat. Our advice is to use a CBD oil with 2.5% CBD and then 1 drop per 5 Kg, 3 times a day. The 5% can also be used for a larger dog
Example:
Your dog weighs 25 pounds.
You then give 5 drops at a time 3 times a day (morning / afternoon / evening).
In total you give 15 drops per day.
The above dose is the maximum dose. Your dog or cat can already benefit from far fewer drops. Therefore always start with a low dose, for example with 1 drop in the morning and 1 drop in the evening. If this does not give the desired effect, you can gradually increase the dose after a week until you have achieved the desired effect.
Buy CBD for dogs and cats online
The CBD oil that we sell online is therefore not only suitable for people, but also for animals such as dogs and cats. Make sure you choose the right dose. Do you also want to buy CBD for your pet? Click here to continue.