Clean Desk! Tips for a productive home office.
A successful business relationship once gave me important advice. He said, "Clean up your desk every night when you're done working. You'll start the next day with more creativity and eventually be more productive." Since then, I've tried to keep it tidy every night, and I've found numerous benefits from maintaining a clean desk.
A clean desk ensures less distraction.
A cluttered desk creates many distractions. Sticky notes, business cards, documents, and unfinished projects cry out for our attention any time of the day. By taking them out of sight, we can better focus on things that need our attention at that moment: the project you are working on.
More liberty. A tidy desk gives you the freedom to finish your choice project. The folders on your desk do not determine your to-do list. You decide where and when you start a task.
New chances. A new day brings new opportunities. When you walk into an office where yesterday's work is still located, you immediately fall back into the past. But a tidy desk brings life, creativity, and fun. Even if your new workday consists of completing the previous day's project, it offers unique opportunities to start or reopen a project and a new way to identify a problem or complete a task.
More inspiration and creativity. A tidy and neat desk ensures a clean and focused mind. You radiate more tranquility, and it looks efficient, competent, and organized. And while nothing can replace a job well done, a tidy desk can only help improve your productivity. Granted, everyone is different, and some don't really like it when everything is neatly organized. But I believe that the principle of a clean desk can be applied to any employee's personality.
Here are six tips that helped me a lot.
Limit the number of office supplies. The first step to keeping your desk tidy is to keep less relevant things on it. This seems simple enough ... almost so simple that it is often overlooked. Take a look around your desk. What absolutely does not have to be? Photos, staplers, books. If it is not essential, put it away.
Hide finished papers. Using a desk drawer is not an unnecessary luxury. It is smart. Your projects and documents are always within reach while you still have them out of sight. I store all my supplies (pens, stapler, etc.) and my current projects. All documents are neatly organized in labeled folders in my top drawer for easy access when I need them. And only the project I am currently working on will be placed on my own desk.
Complete projects. One of the biggest enemies of desk clutter is unfinished tasks. Sometimes they lie on the desk for weeks. These unfinished tasks can sometimes be paralyzing. If a task can be completed in less than 20 minutes, get it done right away. If a task takes longer, find a place to store it until you have time to start over when you have time.
Digitize tasks. A simple Contacts program and Tasks program can probably delete 95-100% of the notes that clutter your workspace (I always use Google Keep). Find an App or program that appeals to you and learn to use it.
Limit distractions. While your computer is essential to run, it can also be a distraction. Hide bookmarks and icons in your browser if they are not directly work-related, such as Youtube, Instagram, Pinterest, etc.
Reserve 5 minutes at the end of the day. Take the last 5 minutes of each workday to tidy up your desk. Rest assured, once you start the habit, it will take much less than 5 minutes, but set aside as much as possible at the beginning. Believe me, the next day, you will find yourself working with more sense.
A clear and tidy desk gives you more focus, peace of mind, and productivity. And that is good for you and the company you work for.
Orbitkey Desk Mat - Helps you to get a clean desk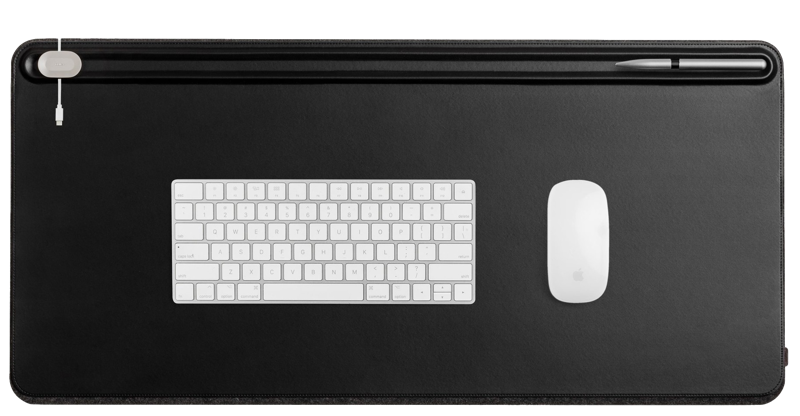 The Orbitkey Desk Mat is a smart solution to better organize and optimize your workspace. The Orbitkey Desk Mat offers storage space for documents, papers, notes, and a magnetic cable holder that keeps cables in place.
The Orbit Key Desk Mat is made from premium vegan leather and 100% recycled PET felt and is available in 2 sizes: Medium (686 x 373 x 4.9mm) and Large (896 x 423 x 4.9mm).
Orbitkey Nest - Portable Desk Organizer with wireless charger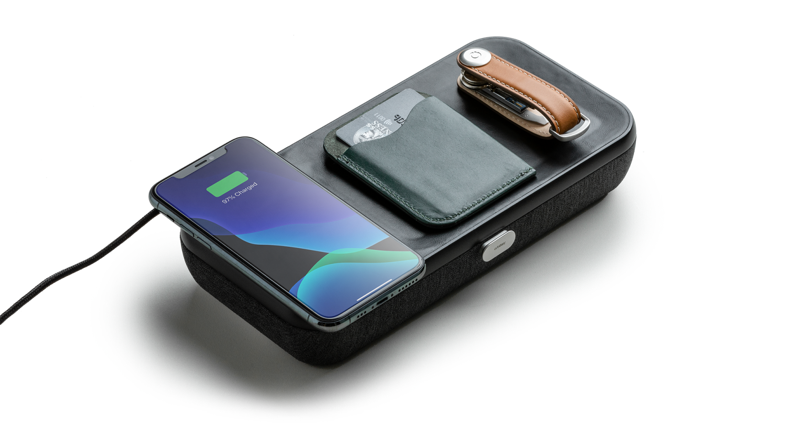 The Orbitkey Nest is a case for all your daily necessities. This desk organizer has a built-in wireless charger and is equipped with various useful features. You can completely determine the layout yourself with the supplied dividers.