New NOMATIC Navigator series of backpacks, bags and suitcase announced on Kickstarter
The "Original" NOMATIC Bags are already an incredible success, despite the price being quite high. (but well worth the investment). With the feedback from tens of thousands of customers, NOMATIC has set to work, resulting in the new Navigator Series that is currently going live on Kickstarter.
5 New NOMATIC bags
NOMATIC is currently working on 5 new bags, which together will form the new Navigator line. The bags will soon be delivered in the well-known matte black color, but there will also be a limited edition of an olive green color. We expect the latter to be very popular, because the first photos are very promising.
The bags are divided into 2 categories; Travel bags and bags for everyday use. In addition, there are some accessories such as an improved Vacuum bag and a special bag for cables, chargers and other small things that you often take with you when you are on the go. In this blog we will only cover the bags.
NOMATIC Navigator Travel Backpack 32 Liter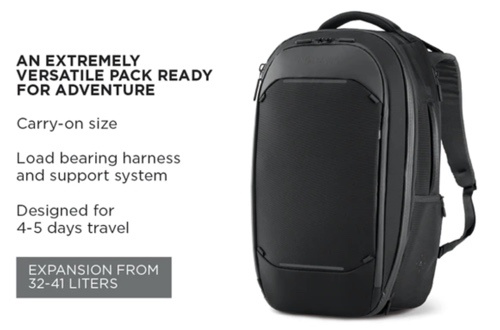 The first bag that stands out is the new Travel Backpack. With a capacity of 32 liters, it is large enough to take enough clothes for a week, but small enough to be taken on the plane as hand luggage. This of course saves you a lot of money because you no longer have to check in a suitcase for which you also have to pay extra. For extra carrying comfort, the bag has a ventilated back and a system that shifts the weight of the bag from the shoulders to the hips. The materials used are of high quality and ensure that the bag is water-repellent. Should you still get tired of carrying the bag? No worries, you can also attach the bag to the telescopic handle of a trolley case.
The main features of the Navigator Travel Backpack
Sometimes you don't want to carry a backpack, but you prefer an injured carrying case. They have taken this into account at NOMATIC. You can easily hide or even remove the hip straps and shoulder straps. If you use the backpack as a carrying bag, you do not have all those annoying straps that swing on the bag. Not only practical, but it also looks a lot nicer. Do you use the bag for a business trip and would you like to bring a laptop? No problem; the Navigator Travel Pack is equipped with a padded laptop compartment, suitable for laptops up to 17 "
The first thing you will notice are the zippers that NOMATIC has used. To prevent the bag from being unzipped quickly, you can loop the zipper loops together. It is then impossible to quickly unzip a bag and steal valuable items. If you want even more security, you can always secure the zippers with a TSA padlock.
The water bottle holders with magnetic closure on the side, which are characteristic of Nomatic, have been replaced by water bottle holders with a zipper and are also suitable for the larger water bottles such as the Kambukka 750ml bottles. But because they can now be closed with a zipper, these pockets are also suitable for storing other items.
If you look at the inside of the Navigator Travel Backpack, it is noticeable that it is not much different from all other NOMATIC bags. There is a multitude of different types of pockets that you can use for anything and everything. There is also a special compartment with RFID protection.
Plenty of room for extra clothes
The bag has a standard capacity of 32 liters. Additional compression straps are provided to help compress and hold the clothes in place. However, if all that is not enough (usually when you come back from vacation and have bought extra clothes and / or souvenirs), you can expand the volume by another 9 liters. That is almost 30% extra space! Keep in mind that the bag will probably no longer be suitable for carrying on the plane as hand luggage.
Recommended retail price Travel Backpack 32L: € 300.00
NOMATIC Navigator Carry On 37 Liter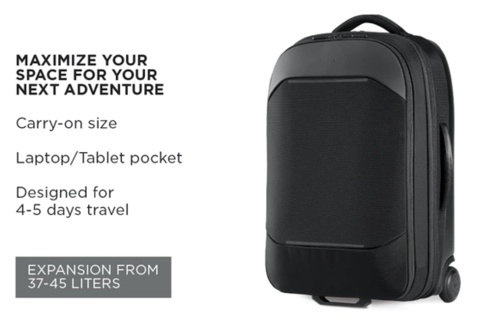 Would you rather have a trolley case than a backpack? Then the Navigator Carry On with its 37 liter capacity might be something for you. This bag is almost the same on the inside as the Travel Backpack, but with 2 wheels, a telescopic handle and reinforced back. Another big advantage is that you can expand the volume of the bag from 37 to 45 liters. More than 20% extra space that you can use for clothing and accessories. As standard, the Carry On is suitable for carrying on the plane as hand luggage.
Recommended retail price Carry On 37L: € 300.00
NOMATIC Navigator Backpack 15 Liter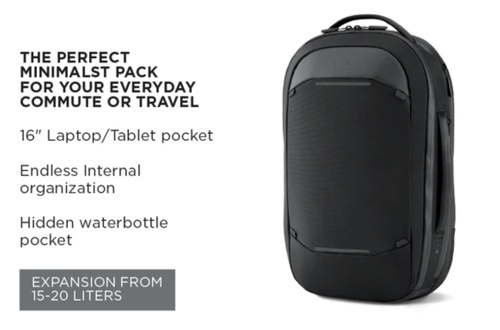 A small, practical backpack for daily use, standard with various ingenious features such as a hidden water bottle holder and 3 handles on the side. With this bag you will really impress at the office or with your customers. The bag is made for the commuter who often wants to (or must) have essential items such as a laptop, note book, tablet etc. etc. Do you often work out from work and would you like to bring sportswear and a towel? No problem; You can expand the bag with an extra 5 liters if necessary.
Recommended retail price Navigator Backpack 15L: € 180.00
NOMATIC Navigator Sling 6 Liter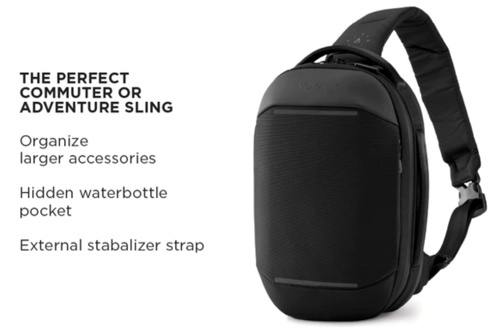 How should we describe the Navigator Sling? Is it a waist bag, a shoulder bag, a courier bag or a neck bag? You know what: It's just all! This bag is really so versatile that we can imagine that at some point you will no longer be able to do without it. The main features are
Hidden water bottle holder
Suitable for Tablets up to a 10 "screen
Internal key fob
Cable passthrough system
Hidden pockets for bank cards etc
Holder for Train card
Various compartments
Isn't this bag a bit too big for you, but you like the idea? Then NOMATIC has also thought of that and designed a real waist bag / carrying bag with a capacity of 1 liter (expandable to max. 3 liters)
Recommended retail price Sling 6L: € 100.00
NOMATIC NAVIGATOR SLING 1 Liter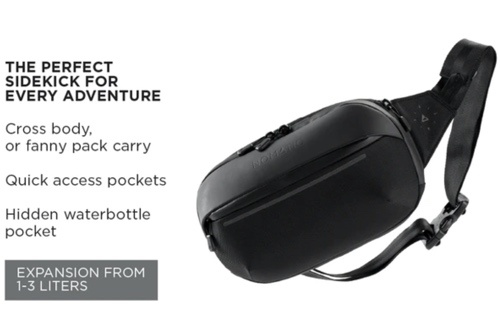 Recommended retail price Sling 1L: € 70.00
NOMATIC Navigator Collapsible Backpack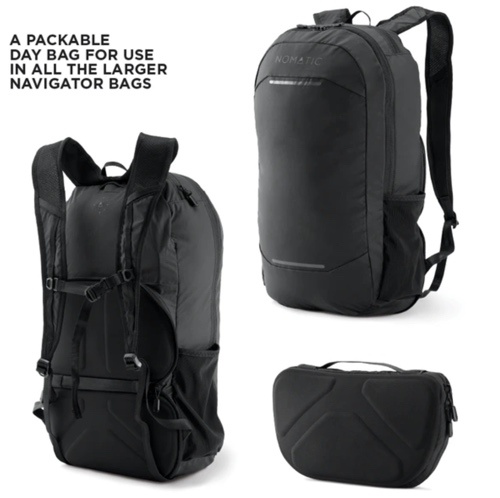 The last in the series is the Collapsible Backpack from NOMATIC. This is a "foldable" backpack that you can easily take with you for everyday use during holidays and city trips. The bag is therefore made to take with you in your suitcase, but can also be perfectly used for that long walk in the forest while skiing in the mountains. As you would expect from NOMATIC, this bag is also equipped with many practical functions such as a sleeve for a tablet or water bag, a water bottle holder, quick-access pockets and much more.
Recommended retail price: € 60.00

Buy NOMATIC Navigator from Novus
At the moment, the bags are only for sale through Kickstarter. The so-called "backers" can only expect the bag at the end of this year. If everything goes according to plan, the first bags will be delivered around October. We assume that Novus can deliver the bags around December. The advantage for you is that you do not have to pay shipping costs and import duties, plus you do not have to advance a large amount. But fair is fair! Are you a real fan of NOMATIC and would you like to give them the means to develop this bag well? Then we advise you to already "buy" this bag via the Kickstarter channel of NOMATIC. click here