Summer is approaching and the pickpocket season has started again. Nearly half a million pickpockets roam the shopping streets and beaches in search of new victims. Phones, sunglasses, wallets, laptops; Bag thieves and pickpockets love it. People with a backpack are extra vulnerable in this regard. You literally have no view of what is happening behind you. An experienced pickpocket can easily open your backpack unnoticed and make his move.
How do you recognize a pickpocket?
Pickpockets usually work in groups of two or more people. A common tactic is trying to divert attention. For example, by giving you a little push by "accidentally" walking into you, or asking a light. Are you addressed by an unknown person? Be alert. An accomplice is often close by and makes his move. The stolen goods are very quickly passed on to accomplices after stealing, so that they no longer have the stolen goods with them in case they are caught. It's hard to prove that he or she really stole something from you.
Pickpockets sometimes wander aimlessly and are very interested in potential victims and their belongings. If they steal a wallet, the money and cards are quickly removed and the wallet is thrown away. Do you live near? Then the pickpocket sometimes uses the house address that can be found in your wallet to break into the house later, if house keys have also been stolen.
Jaime van Gastel is a Dutch "crook spotter". On his Youtube channel he shows how real pickpockets work.
Nine tips to prevent pickpocketing or theft
How do you avoid becoming a victim of pickpockets or bag thieves? If you know how pickpockets and thieves work, you also know how to protect yourself and make sure you are less likely to be robbed of your valuables.
We give you 9 tips so that you are less likely to become a victim of pickpockets:
Always carry your wallet close to your body. For example in your inner pocket of your jacket.
Don't take more money with you than you need. Use your debit card for large amounts and never keep the pin code with your debit card.
Keep a close eye on the environment. Always stay alert while calling or texting.
Always keep your bag closed. Carry your bag with the shoulder strap around your shoulder and neck and make sure the bag is hanging in front of you.
Always wear the closure of the bag against your body.
Do not attach your bag to the handlebars of your bicycle.
Be careful. Are you being addressed by a stranger? An accomplice often makes his move.
Turn down a stranger's help.
If someone messes on your clothes, clean it yourself.
Avoid busy places. Pay extra attention to your things in places where many people are (public transport, markets, shopping streets and events).
Always take your bag with you when you go in and out of the fitting room while trying on clothes.
What should you do if your wallet or bag is stolen?
A pickpocket is not interested in things that have no value to them, but can be valuable for you personally. Everything that is not valuable to the thief is often thrown into bushes or a trash can. Have you fallen victim to a pickpocket or bag thief? Take a look in the vicinity for trash cans or places where you can easily and quickly dump something.
Is your bank and / or credit cards stolen? Then contact your bank directly to block the cards. Has your mobile phone or tablet been stolen? Then contact your provider directly to have them block the SIM.
Anti-theft backpacks
With an anti-theft backpack you outsmart pickpockets. These bags are made of cut-resistant material. So thieves don't just cut open an anti-theft bag. The hidden compartments and closures also make it more difficult for pickpockets to access your belongings. For example, an anti-theft backpack offers you extra security. The LocTote bags are made of sturdy material, making it impossible for pickpockets to quickly cut open the bag and steal your belongings. With this anti-theft backpack, your valuables such as your laptop, tablet, mobile and wallet are safe from theft. In addition, the LocTote bags have a sturdy, nylon loop that is reinforced with steel wire and a number padlock so that you can attach the bag to a pole, bench or fence. Ideal if you have to leave the bag unattended, for example if you want to fit clothes in a store.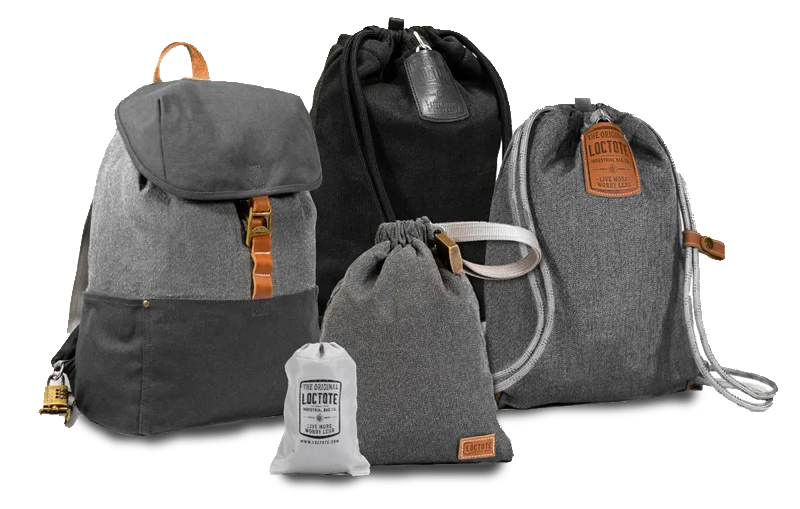 Loctote Flak Sack II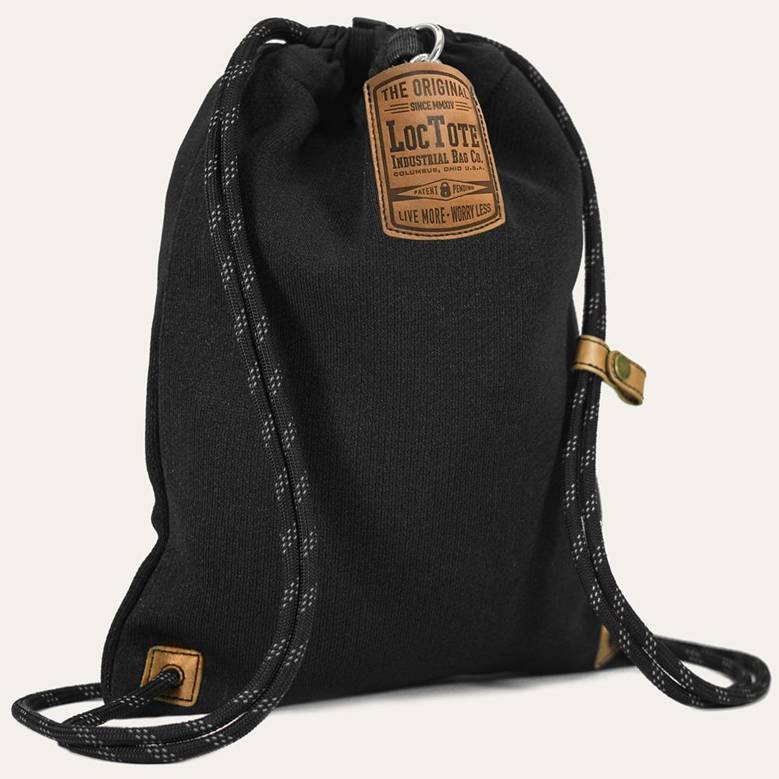 Price: € 169.00
We've upgraded the original theft-proof drawstring backpack to an even more secure pocket. The Flak Sack II is made from our exclusive FLAKnit slash-proof fabric that achieves an A9 cut, the highest there is! This lockable bag is like a portable safe for your valuables. Designed to meet the lifestyles of people on the go who want to carry their essentials with them but are unable to constantly pay attention to them. This bag not only carries your belongings, it also protects them.
Loctote SPORT
Price: € 129.00
On vacation, on the way to work, during a game of football in the park or on public transport: with the LocTote SPORT backpack you don't have to worry about your valuables being stolen. This unique backpack, model Flak Sack, is almost the same as the original LocTote. The main difference is that the LocTote SPORT is 25% lighter and is not double-layered. It is the world's first backpack that you can lock with a lock strap and the accompanying combination lock. But that's not all: you can also attach it to a bench or fence with the same lock. The nylon lock strap is reinforced with almost fifty stainless steel wires, so it is impossible to cut it quickly.
Loctote COALITION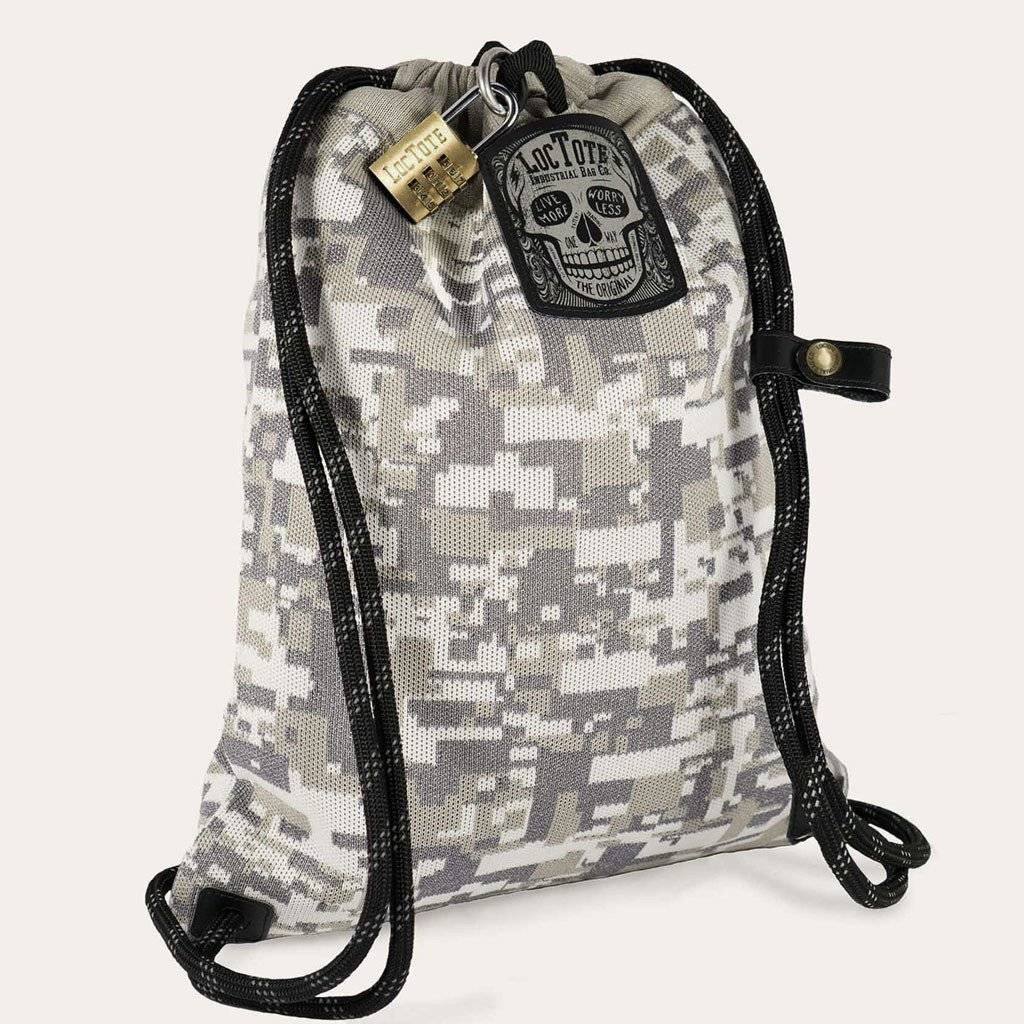 Price: € 149.00
An edgy look and the highest cut resistance yet: the Flak Sack COALITION is a backpack for cool dudes and tough girls. Whether you use it at school, on the way to work, for sports or on holiday, your belongings are safe in the Flak Sack COALITION. The LocTote bag was designed in collaboration with NFL superstar Braxton Miller and if it is good enough for him, it is for you too. The Flak Sack is the first backpack that you can lock with the unique lock strap and the accompanying combination lock.
Loctote AntiTheft 3L
Price: € 74.95
The LOCTOTE AntiTheft Sack 3L is a portable travel safe that you can attach to a fixed object to protect your valuable papers and belongings when you cannot keep an eye on them. Small and handy ideal if you only want to take your most valuable items with you. This small lockable anti-theft bag has a volume of 3 liters.