The Dutch can go on holiday to twelve countries within Europe from 15 June, and tourists from some countries will be welcome in our country again from then on. If you plan to go abroad this year, keep in mind that in some countries you are required to wear a mask. Every country has its own rules for this and that is why it is important to prepare well.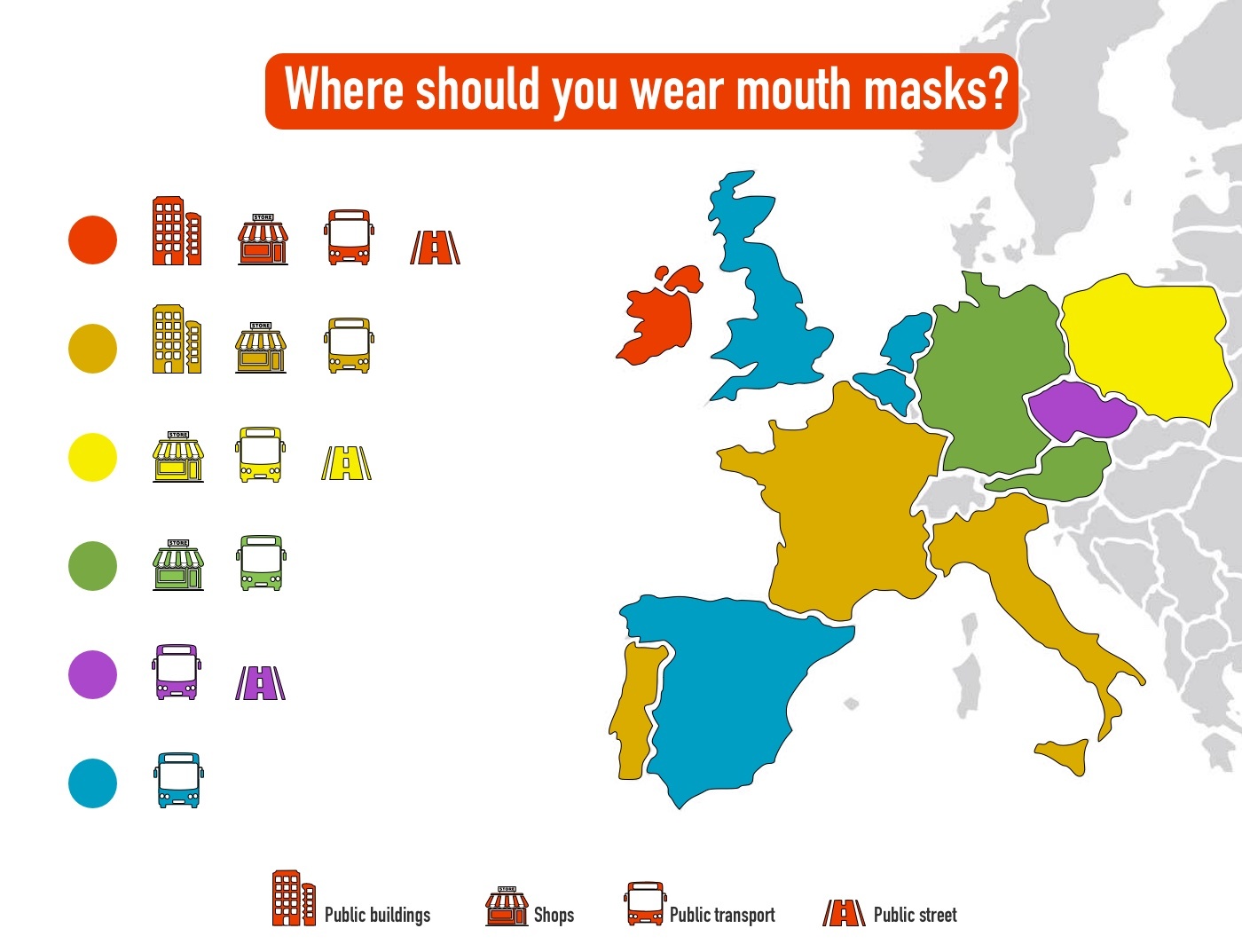 Netherlands
From June 1, 2020, a face mask will be mandatory on buses, trains, trams and subways, as well as on ferries to the Wadden Islands. This applies to travelers aged 13 and over. To do this, use a non-medical mouth mask or a homemade mouth mask.
Germany
In Germany, wearing a mouth mask is mandatory. Everyone who goes shopping or traveling by public transport should use mouth and nose protection. Wearing a mouth mask is also mandatory in petrol stations. Are you going to or through Germany by car? Make sure you always have a mask in the car.
Belgium
In Belgium, mouth protection is mandatory in situations where a meter and a half is not feasible, for example in public transport. A homemade mask, scarf or bandana is also good, but you are required to wash it daily (although this is impossible to check).
France
Face masks are mandatory in many places in France; in public transport, in companies and shops. Many municipalities and public transport companies sometimes distribute them for free, but make sure you always have a face mask with you to avoid nasty surprises.
Spain
in Spain, masks are required on public transport, airplanes and on ferries. Face masks are also mandatory in cars if you are not driving alone with your immediate family. The country distributes 14 million face masks at various nodes in the public transport. Mouth masks are also available at some pharmacies and supermarkets. The maximum determined price is 96 cents. However, these masks are not suitable for repeated use, so you will need to purchase several if you are going on vacation for a longer period of time.
Austria
In Austria, the wearing of face masks is only mandatory in shops and public transport.
Italy
In Italy it is mandatory to wear face masks on public transport and in closed areas, such as shops. However, regional governments may also draw up their own rules. For example, in Lombardy and Tuscany, face masks are also required on the streets, while in Lazio it is only mandatory if you have a conversation with someone. Are you going to Italy on vacation? Make sure you always have a face mask on hand.
Balkans
In Hungary, wearing mouth protection is mandatory on public transport and in supermarkets. Face masks are distributed at trains, buses and trams.
In Bosnia, Kosovo, Montenegro, North Macedonia, Albania, Bulgaria, Romania and Slovenia, wearing a face mask in the street and in public areas is mandatory.
Wearing face masks is not mandatory in Serbia and Croatia. Wearing protection is advised in public areas.

Make sure you carry enough mouth masks with you.
Only medical masks protect you from the virus. A non-medical mouth mask does not protect yourself, but can protect the people around you if you wear it carefully and use it. Novus offers you mouth masks that are made of polyester. They feel like textile on the skin and the material is OEKO-TEX® 100 certified, which means that the fabric does not irritate the skin. You can wash and reuse the mouth masks. A set of 3 mouth masks costs € 11.95