Add your review
Backpack / Travel bag with clothing compartment and laptop compartment - 20 to 30 liters - Black
Backpack / Travel bag with clothing compartment and laptop compartment - 20 to 30 liters - Black
Article code
NOMATIC-TRAVELPACK-2ND
Expected delivery time: 1-3 business days
Backpack / Travel bag for 1-3 day vacations or business trips. Read more
Ordered before 17:00, Shipped Today!.
Buy

2

for

€218,66

each and save

10%

10% Discount
Description

Nomatic travel pack 
Are you going away for the weekend? Take the Nomatic travel pack with you.
This ideal bag has a capacity of 20 to 30 liters and has many useful functions. The travel pack from Nomatic has a so-called 'Compression Cube' with two compartments to separate your clean clothes from the dirty laundry. It also has a special compartment for your laptop or tablet.
The hip straps provide more comfort while wearing the travel pack. They are also equipped with watertight compartments to store travel documents, bank cards, airplane tickets and public transport cards that you need to access quickly.
For those who can never find their keys, the pull-out keyring is a godsend. Don't you want to wear the travel pack as a backpack? Just detach the back panel, put the straps in the bag and use it as a briefcase.
Free shipping - no customs and/or import duties in the EU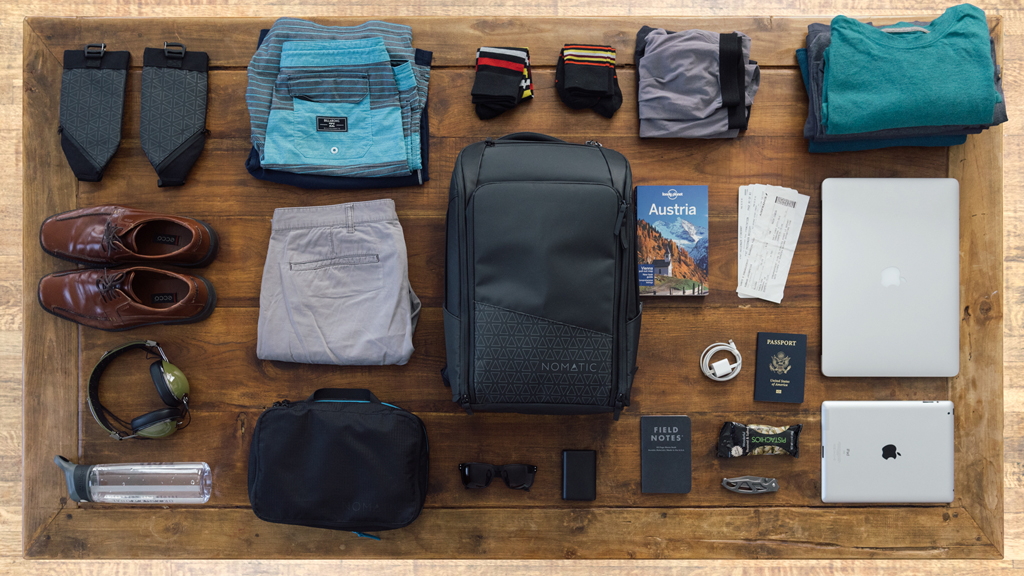 Strap System
The innovative strap system adds a level of versatility to the bag that can help you look professional or escape the demands of your profession. Simply unsnap the back panel, tuck in the straps, and snap it back down to carry like a briefcase. 
Waist straps
Each bag comes with waist straps. These provide even more comfort and can be attached to your bag if desired. Each waist strap is equipped with waterproof pockets.
Water bottle pocket
The water bottle pocket is magnetic, it snaps shut and looks sleek when it's not in use, and expands when you need the space.  
Retractable Key Leash
We added a retractable key leash.  Easily lockup with one hand, release the key, and watch it effortlessly returns to its pocket in the bag.
NOMATIC Travel Pack Walk through
This bag comes with:
- Sunglasses holder
- Yoyo key ring
- Waist Straps
Do you want to buy the NOMATIC Travel Pack? We ship directly from stock from our Warehouse in the Netherlands and ship to any country in Europe. Free shipping and next day delivery.
Tips for packing your Travel Pack
1. Essential to take with you!
A passport or ID, possibly a visa, money (cash, debit card, credit card) and your travel documents are essential when you go on holiday. The Travel Pack is equipped with a special lockable compartment with RFID protection for your debit card, ID card and passport. You can perfectly "hide" money in the secret compartment.
In addition to your mobile phone with charging cables, perhaps earplugs, you may also want to have your iPad and sunglasses at hand. The NOMATIC Travel Pack comes standard with a glasses holder and various compartments for your cables and earplugs. The layout of the Travel Pack is designed so that you can always access them.
2. Choose targeted
Take a good look at which destination you are traveling, the weather type on the spot, how long you will be leaving and what you will do during your stay. Traveling with a backpack is different from a cruise or a cycling holiday. Adjust your luggage accordingly. Forget about "maybe I need it" and then put everything in your luggage, but choose targeted. Bring good basics that you can combine with each other. And remember, unless you're traveling to a remote place and wandering through no man's land for days, pretty much anything is for sale everywhere.
3. Make packing lists
It is very useful to make a packing list and to consciously think about what you really need. You can write a list by hand, but nowadays there are also online packing lists such as Inpaklijst.nl and Meenemen.nl. Save this list for future holidays.
4. Pay attention to the weight of the Travel Pack
If the Travel Pack is too heavy, you can use the included hip straps to distribute the weight of the bag over your hips. This makes wearing a lot more pleasant.
5. Cosmetics and toiletries
Don't take too much cosmetics and toiletries with you. These take up a lot of space and are heavy. Preferably fill small bottles and buy small packages. You can probably buy larger packages at your destination. Bringing a good bottle of sunscreen from a brand you know is handy. Store it in the optional NOMATIC Toiletry Bag.
6. Bath and hand towels
Before you travel, ask whether you can use bath and towels during your stay at the hotel or other accommodation. If this is the case, you can leave this luggage at home. If not or if you have booked a holiday where you bring your own towels, choose a medium size (also for the beach) and roll them up, so they take up less space. The optional NOMATIC packing cubes are ideal for taking towels with you. They are available in small, medium or large.
7. Valuables
Leave really valuable items such as jewelery and items that you are attached to as much as possible at home. That means less worry and prevents your vacation from falling into the water. And store valuables in a safe or find a good place where others cannot find it quickly (but that you remember!).
8. All Packed…
Prepare your suitcase a few days in advance.
Collect all items according to the packing list.
Seriously see if you really need all of that and start packing.
Pack smart and ergonomic: roll up clothes, put heavy things at the bottom and lighter items on top in your suitcase. Put your toiletry bag in a plastic bag in case something leaks.
9.… and go!
NOMATIC has made a handy video in which you can see how you can get the most out of the Travel Pack.
Specifications
| | |
| --- | --- |
| Dimensions | 46.99 cm x 30.48 cm x 15.24 (up to 24.13 cm) |
| Weight | 1.9 Kg |
| Fabric | Durable Weahterproof Material |
| Capacity | 20 Liter - 30 Liter |
| Number of inside pockets | 16 |
4,9
stars based on
11
reviews