RevolCam 5-in-1 smartphonelens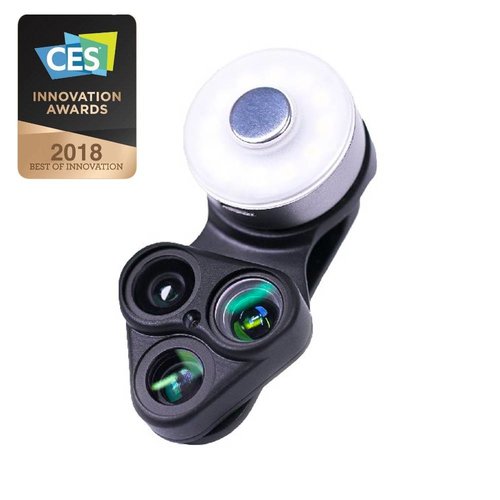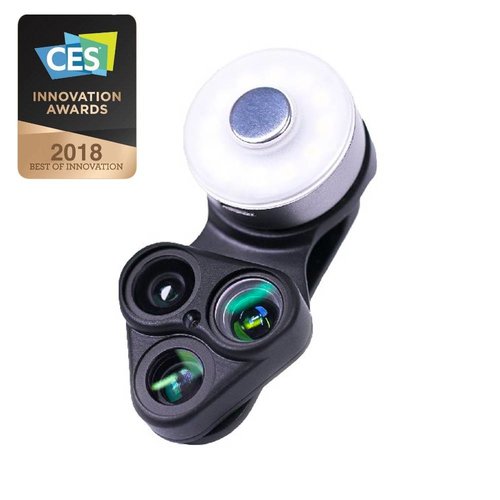 RevolCam
Article code
NF-REVOLCAM-1
With three high quality camera lenses, an adjustable brightness LED and Selfie Mirror, RevolCam is smartphone photography reinvented
Read more
Ordered before 17:00, Shipped Today!.
RevolCam
Smartphone Camera
With three high quality camera lenses, an adjustable brightness LED and Selfie Mirror, RevolCam is smartphone photography reinvented
RevolCam 5-in-1 smartphonelens
We make pictures of nearly everything nowadays. So it's no surprise people want to optimize their smartphone camera. That's an easy thing to do with the RevolCam 5-in-1 smartphone lens. This is a handy tool with three lenses you can clip on your smartphone.
RevolCam 5-in-1 functionalities:
Macro lens

Fisheye lens

Wide-angle lens

Detachable LED light

Selfie mirror
Multi lens set with macro, fisheye and wide-angle lens
Each situation asks for another lens. Make a beautiful shot of a special flower or butterfly with the macro lens. Choose for the wide-angle lens if you want to get the surroundings in the picture too. The wide-angle is perfect for a picture of large groups, beautiful scenery or if you want to photograph a particular space as much as possible. The fisheye lens makes cool pictures, which are great fun and artistic when you take a picture of people or special objects.
Detachable LED light
You can control the led light with a single touch of your finger: choose a little extra light during daytime to get a lot of light if you want to take pictures in the evening. The LED light is detachable, so you can use the selfie mirror that lies underneath. This way you can use the better back camera instead of the front camera, while still seeing yourself. You can still use the LED by sticking it to a metal object like a fridge or lamp post, for example.
All you need for a nice picture is this lightweight RevolCam smartphone lens. The 5-in-1 lens set is suitable for any smartphone. The handy clip fits on phones of different sizes and thicknesses. The lightweight lens is easy to carry in your pocket, bag or jacket pocket.